This year we are focusing on some of the incredible pop-culture witches created and portrayed by black artists over the past 50 years.
In 1900, author L. Frank Baum began to alter the image of the witch with his wildly popular children's book The Wonderful Wizard of Oz, giving America its first famous good witch. By the mid-twentieth century, good witches became hugely popular in American media, featuring prominently in film, music, television, and comic books.  While this was a notable change in the depiction of the witch, becoming a popular figure in the feminist and Neopagan movements of the 1960s and 70s, it is also important to recognize the good witches of this period were almost always exclusively white. For the majority of this century, the good witch, a newly important figure of female empowerment, was portrayed more often than not as a white woman. It was not until the latter half of this century that the depiction of a good witch began to grow, portraying a more diverse array of women. While witches portrayed by women of color finally began to enter popular culture by the end of the twentieth-century, these depictions also frequently portrayed these witches as evil or problematic figures.
In this blog series we are seeking to explore some of the unique and diverse portrayals of black witches and the incredible actresses that have taken on these roles over the past 50 years. While some of these characters unfortunately retain certain problematic characteristics, we hope this series brings attention to the work of these talented actresses and helps to open a conversation about the need for a more diverse portrayal of witches today.
The Chilling Adventures of Sabrina
In 2018, Netflix released The Chilling Adventures of Sabrina, a dark, yet hilarious, supernatural television show. This story is a sinister take on the popular 1990s show Sabrina the Teenage Witch—a series originally based on an Archie comic of the same name. The original show followed the story of Sabrina Spellman, an orphan living with her quirky single aunts who wakes up on her 16th birthday and discovers she is a witch. The Chilling Adventures of Sabrina draws on this same premise and includes many of the same characters, though with a much darker tone. In this series, half-mortal, half-witch Sabrina must make a choice as she approaches her 16th birthday, will she remain in her mortal, teenage world, or join her family as a full witch? In this adaptation, the historical vision of the witch as a devil worshipper is mixed with the modern, good witch, to create a unique interpretation of this age-old figure.
This show was brought to life by some extremely talented actors and actresses, four of whom we will highlight in this post.
Tatiana Gabrielle Hobson (known professionally as Tati Gabrielle) plays Prudence Blackwood, the leader of the three Weird Sisters. A reference to the witches of Macbeth, these witches are powerful, beautiful, and intimidating. While at the beginning of the show, Prudence and Sabrina are positioned as enemies, as the story progresses they develop a grudging respect and friendship. Prudence Blackwood can only be described as fierce and becomes an increasingly central character throughout the series. Tati Gabrielle is an American actress from San Francisco, California. She began performing at an early age, and appeared in a range of short films, television series, and voice acting roles from 2014-2017. Her first recurring role was in the television series The 100 and she later voiced Addie in the 2017 Emoji Movie. Ironically, Gabrielle attended Spellman College, where she double majored in Theatre and French. In 2021, Tati was recognized as one of Forbes' "Hollywood 20 under 30."
Jasmine Sinclair Sabino plays Rosalind Walker, best friend of Sabrina. Rosalind is the daughter of the town's minister and is portrayed as an outspoken feminist and caring friend. Though she begins the show as a regular mortal teenager, as the story progresses her character develops supernatural characteristics, such as the ability to see the future. Though we don't want to give away the ending, her character certainly concludes the series as more of a witch than a mortal. As is the case for Prudence Blackwood, this character becomes a more powerful and central figure as the plot moves forward. Jasmine Sinclair Sabino (known professionally as Jaz Sinclair), was born in Dallas Texas in 1994. Beyond her role in The Chilling Adventures of Sabrina, Sabino is also known for her work in the film Paper Towns, where she played Angela. Her first film role was in 2009 in Into Dust, and she has appeared in a variety of films and television shows since, including Slender Man, Easy, and The Vampire Diaries.
Notably, this show does not just include female witches, as this is a world populated by male witches as well! Chance Perdomo plays Sabrina's English warlock cousin. In his first American screen credit, Perdomo plays the pansexual, comically sarcastic, and brilliant warlock Ambrose Spellman. Ambrose shares a similar backstory with Sabrina's talking cat, Salem, from the original television show. Much like Salem, Ambrose began the series under house arrest due to a major criminal incident in his past. Perdomo was born in Los Angeles, CA, but moved to Southampton, England as a child with his mother. Though he originally intended to study law, he ultimately decided to pursue a career in acting.  His first film credit was for the 2016 short Longfield Drive. Since then, he has appeared in both film and television, and was nominated for BAFTA for Best Actor in a Leading Role for his portrayal of Jerome in Killed by My Debt. Perdomo originally auditioned for the CS series Riverdale, and though he did not land a role for this show (losing the part of Jughead to Cole Sprouse), he impressed producers to such a degree that he was asked to audition for The Chilling Adventures of Sabrina.
While Tati Gabrielle, Jaz Sinclair, and Chance Perdomo are all main characters and are present throughout the series, another notably character entered the cast in the third season, Mambo Michele Marie Le Fleur. This Haitian Voodoo Priestess meets Ambrose and Prudence in New Orleans. Eventually, she travels back to Greendale to assist with the latest evil threatening the world (a recurring problem for the witches and mortals of Greendale). Her character remains significant as she becomes a kind of temporary mentor to Prudence and Rosalind, and later the love interest of Zelda Spellman, one of Sabrina's aunts. Mambo Michele Marie Le Fleur is played by actress Skye Marshall. Marshall is a remarkable individual. After having served in the United States Air Force, she graduated from Northeastern Illinois University. After her graduation, she focused on theatre and dance, and has gone on to appear in numerous television series and projects since 2010.
Notably, while this series is progressive in many regards (such as its inclusion of LGBTQ+ characters as well as its emphasis on feminism and female empowerment), there has been criticism concerning the representation of black witches in The Chilling Adventures of Sabrina, particularly in the depiction of Mambo Michele Marie Le Fleur. As we discussed in our last post, unfortunately, projects that include witches portrayed by actors or actresses of color are frequently extremely limited and relegate these characters to a particular archetype or story arc. To learn more about the problematic depiction of this character, check out this 2020 article written by Princess Weekes https://www.themarysue.com/sabrina-fumbles-black-characters/. This article provides an important perspective, particularly as we consider how black witches continue to be portrayed in limiting or problematic ways in contemporary culture.
The Craft
While good witches became a popular subject in American media from the 1960s on, it was in the 1990s that witch-related films exploded in popular culture. Premiering on May 3, 1996, The Craft was a distinctly unique take on this age-old figure, as it was one of the first films to portray a witch as a modern Neopagan practitioner. Though a supernatural horror film, The Craft took steps to portray Neopagan witchcraft as accurately as possible (even hiring a practicing Wiccan to consult on the film!) and emphasized these spiritual practices as a means of examining problems faced by contemporary female teenagers. The film was an unexpected success, grossing $6.7 million on its opening weekend. Today, this film is regarded as a cult classic.
The Craft follows the story of four teenage girls living in Los Angeles, California. Sarah Bailey is the new kid in school and soon finds friendship with a group of outcasts; Nancy (Fairuza Balk) who is shunned due to her lower-class background and eccentric dress, Bonnie (Neve Campbell) who is teased because she bears highly visible scars from a car accident, and Rochelle (Rachel True) who is a black upper-middle class teenager subjected to racist bullying. When Nancy, Bonnie, and Rochelle realize Sarah has the same innate magical abilities, they invite her to join their coven. As all four girls respectively cast a spell to assuage a problem they face at school, they each experience varying degrees of negative repercussions as they learn magic ought not be used for personal gain.
In contrast to the other major films of the time (think Clueless, Ten Things I Hate About You, American Pie etc.), The Craft was particularly unique in that it portrayed a more diverse array of issues facing contemporary teenage girls. In a Huffington Post article reflecting on the 20-year anniversary of The Craft, Rachel True commented extensively on her experience working on this film. She noted, originally Rochelle was written as white and bulimic and it was only after True auditioned for the role that the character was rewritten as a black, middle-class teenager facing racially charged bullying. While discussing this change, True noted, "I think that having the racial component in that movie added a really great layer that just wasn't there in most teen movies. A lot of times, the roles I played, I literally say the words 'Are you OK?' So this time I got to play a character who actually had something going on." In a 2020 interview with Shannon Miller for AV Club, True went on to say "Sometimes I think that even my costars don't understand what that role at that time represented for Black women and girls …It wasn't about me so much as what it represented to other girls at that moment."
However, the representation of Rochelle was not without its problems. True recalled, "When we did the read-through, I had a scene with my upper middle class, stodgy parents. We shot it, but it ended up being cut from the film, which I was a little bummed about because I was like, 'Wait, all the other girls get parents. I don't get parents?' And this was 20 years ago, so then I said, 'Listen, you're black and you're in the movie. That's pretty good already.'" As is discussed by BreAnna Bell in her article "How Hollywood Has Failed Black Witches, According to Real Black Witches," this is a frequent problem when witches are played by black women. More often than not, these witches are side characters, who are relegated to the position of the friend or sidekick. While Rochelle was one of the main characters, she was also given the least backstory of these four teen witches.
Furthermore, True experienced overt discriminatory treatment in the marketing and promotional activity after the film's premier. In the Huffington Post article, True remembered when the film was released, "There was a publicity junket that they were only going to take the other three girls to. At the time, 20 years ago, I was like, 'Oh, it's me, it's me, it must be me.' And now I realize it wasn't me — it was marketing. They didn't really think it was going to get a black audience is my guess." She went on to say, "I did eventually get added to that junket because one of the other actresses said, 'You should really bring her.'" As Shannon Miller notes, in 2019 Rachel True came forward on social media to discuss her treatment after the film premiered. True stated, "I speak up for this because when I was growing up, there were these textbooks where you'd see a picture of a woman and it would just say, 'woman' or 'dancing slave… At some point these women had names. I wouldn't have spoken out like that if I was younger but now that I'm older, I see it happening to the younger generation of kids as well. And so I'm going to speak up for myself and them."
You can read the interview and article written by the Huffington post here:  https://www.huffpost.com/entry/the-craft-oral-history_n_5734f7c9e4b060aa7819d362
You can read BreAnna Bell's full article here: (https://variety.com/2020/film/news/how-hollywood-has-failed-black-witches-1234819770/)
You can read Shannon Miller's interview with Rachel True and article here: https://film.avclub.com/the-craft-s-rachel-true-on-rochelle-s-evolution-and-the-1845459663
Twitches
Though perhaps a niche favorite today, for many growing up in the 90s and early 2000s the Disney Channel original movies Twitches (2005) and Twitches Two (2007) were must-watch Halloween films. Every year, I eagerly sat down to watch Twitches and Twitches Two, along with other Disney Channel original classics (Halloween Town, Mom's Got a Date with A Vampire, Phantom of the Megaplex—what a great time for cheesy Halloween movies!). While created for a young audience, these films have remained an important part of my annual Halloween film festival (other millennials, I am looking at you, I know you watch them every year too).
Set in a universe filled with magic, alternate dimensions, and supernatural royalty, these films follow the story of twin princess witches (played by Tia and Tamera Mowry) separated at birth and brought to the mortal realm (if you have never seen this film, that may sound absurd, and it is—but in the best kind of way). Taken from their homeland of Coventry to escape an evil force known as "The Darkness," the twins are taken in by two mortal families. On their 21st birthday the twins are reunited by their supernatural guardians and asked to join with their mother, Miranda, to stop "The Darkness" from taking over Coventry. In the typical style of a Disney Channel Original Movie, these witches must learn to use their magic, work together, and ultimately discover the strongest force in the universe is love. A wholesome interpretation of the witch, these twin witches (hence the name, Twitches) represent a larger shift in the cultural interpretation of the witch—The witch who is just like everyone else, a girl who wakes up one day and suddenly has magic powers.
Before starring in Twitches, actresses Tia and Tamera Mowry gained fame on the ABC/WB sitcom Sister, Sister. The Mowry sisters began appearing in pageants and talent shows at a young age, before convincing their parents to relocate to California so they could pursue a career in acting. After appearing in the series Sister, Sister Tia and Tamera both studied psychology at Pepperdine University before returning to acting and appearing in several Disney Channel Original Movies, including Twitches. In 2011, the Style Network launched the reality show Tia & Tamera, which followed the journey of Tia, pregnant with her first child, and Tamera as she planned her wedding. Both Tia and Tamera have been the recipients of numerous awards for their acting: Tia has won four NAACP Image Awards while Tamera has won two, both have been nominated for, and won, Nickelodeon's Kids Choice Awards, People's Choice Awards and Teen Choice Awards. Go Twitches!
Follow this link to see a short clip from this fun film posted by Disney Channel for a #ThrowBackThursday: https://www.youtube.com/watch?v=xbsiw5fpP9k
American Horror Story: Coven
We have many fans of the FX series American Horror Story here at the Salem Witch Museum. Created by Ryan Murphy and Brad Falchuk, the 10th season of this amazing series is scheduled to air later this year (we think). It's probably no surprise that we are partial to season three, Coven, which aired in 2013-14. The plot follows the descendants of the surviving witches of the Salem witch trials (OK, so it's not historically accurate), who are gathered together for safety in a New Orleans all-girls school, Miss Robichaux's Academy for Exceptional Young Ladies. The headmistress is played by Sarah Paulson; the role of her mother – the Supreme and most powerful witch of her generation – is played by the great Jessica Lange; and the truly gruesome, racist character of Madame Delphine LaLaurie, based on a real socialite from the mid-1800s who brutally tortured and killed her slaves, is played by Kathy Bates, who won a Primetime Emmy for the role.
Today's post is all about two of our favorite actresses in Coven: Angela Bassett and Gabourey Sidibe.
Angela Bassett plays a fictionalized Marie Laveau, the legendary Voodoo Queen of New Orleans. The real Marie Laveau (circa 1801-1881) was a free woman of color, of African, Native American, and French descent, who was an herbalist, midwife, and voodoo practitioner in 19th century New Orleans. The real Marie Laveau was known during her time as a powerful woman who cared for people from all walks of life in her community. She was also the owner of a beauty parlor where she was the hairdresser for the wealthy homes of New Orleans, an aspect of her life that is depicted in Coven. In this season of American Horror Story, Marie Laveau is depicted as alive, after having sold her soul for immortality more than than 300 years ago. Although Bassett and Lange's characters are sworn enemies, they ultimately end up working together in partnership against a cabal of witchfinders.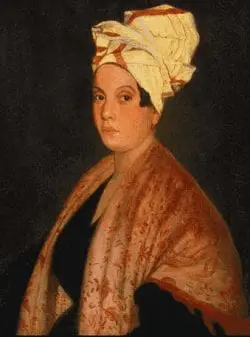 Angela Bassett has appeared in many films portraying real African-American women, most notably Tina Turner in What's Love Got To Do With It, for which Bassett won the Golden Globe as Best Actress in a Comedy or Musical (the first African-American woman to win the award), and was nominated for an Academy Award for Best Actress. Some of her other outstanding roles were in Malcolm X, Boyz In the Hood, Waiting to Exhale, How Stella Got Her Groove Back, and Black Panther. Bassett received a Primetime Emmy Award nomination for her role as Marie Laveau in Coven. She also made regular appearances in the American Horror Story series, in seasons four, five, and six, and reprised her role as Marie Laveau in season eight Apocalypse.
Actress Gabourey Sidibe made her acting debut in the 2009 movie Precious, for which she was nominated for both an Oscar and Golden Globe Best Actress award. For her amazing portrayal of a 16-year-old mother of two, she won the Independent Spirit Award for Best Female Lead.
In Coven, Gabourey Sidibe plays the role of young witch Queenie, one of the four students in attendance at the all-girls school as the season begins. A math wiz, she describes herself as a "human voodoo doll," who is able to transfer self-inflicted pain to other people. It is revealed that Queenie, the only black member of the coven, has both voodoo blood and witch blood – she is said to be a descendant of the slave Tituba, who was the first to confess to witchcraft in 1692 Salem. The horribly racist Madame LaLaurie is brought back from the 1800s and is forced to be Queenie's personal attendant by Lange's character Fiona Goode (Fiona hates racists). Despite LaLaurie's extreme racism, the rather good-hearted Queenie and LaLaurie develop a complex relationship, becoming "friends" of a sort. Eventually Queenie leaves the coven to join the voodoo faction, but returns to the coven and becomes a member of the witch council.
Sidibe returned for American Horror Story's season four Freak Show in the role of Regina Ross, and then reprised Queenie in season five Hotel and season eight Apocalypse. She also had a role in the Showtime series The Big C, and the Fox musical series Empire, where she played the head of A&R at the Empire record label.
This is a link to a 30 second trailer for Coven: https://www.youtube.com/watch?v=jIXFhC-rxf4
The Wiz: The Super Soul Musical 
Opening on October 2, 1974 in Baltimore Maryland, this dazzling musical was an adaptation of L. Frank Baum's The Wonderful Wizard of Oz. Featuring an all-black cast, this fresh and vibrant take on Baum's classic story included a mixture of rock, R&B, and soul music. Music and lyrics for the production were written primarily by Charlie Smalls with the production's book written by playwright William F. Brown. Due to the success of the initial run, the musical was moved to Broadway in 1975. Featuring leading lady Stephanie Mills as Dorothy Gale, this production won seven Tony Awards, including Best Musical.
By 1978, the popularity of The Wiz inspired the production of a film adaptation. While the original musical closely followed Baum's original story, this interpretation is set in contemporary Harlem, New York and follows 24-year-old schoolteacher, Dorothy Gale, as she is transported to the land of Oz, a place that resembles a fantastical version of New York City. Starring Diana Ross, Michael Jackson, Nipsey Russell, Theresa Merritt, Thelma Carpenter, Lena Horne and Richard Pryor, the cast was also joined by Ted Ross and Mabel King, both of whom appeared in the Broadway musical and were back to reprise their roles. Though at the time the film was largely considered unsuccessful, today this adaptation is considered by some to be a cult classic.
But The Wiz was not yet done inspiring new interpretations of this classic story, as in 2015 NBC produced a live performance of the on-stage show. Filmed at the Grumman Studios in Bethpage, New York, The Wiz: Live! aired on television December 3, 2015. Influenced by both the original Broadway musical, as well as the film adaptation, this performance starred Shanice Williams as Dorothy, Amber Riley as Addaperle (the Good Witch of the North), Uzo Aduba as Glinda, Elijah Kelley as the Scarecrow, Ne-Yo as the Tin-Man, David Alan Grier as the Cowardly Lion, Mary J. Blige as Evillene (The Wicked Witch of the West), and Queen Latifah as the Wiz. In addition, Stephanie Mills, star of the 1975 musical, returned to the stage for this adaptation to play Auntie Em.
Not only is The Wiz yet another creative and magical take on the classic story of the land of Oz, but this musical is also considered to be an important gateway in musical theatre, opening the door for productions like Dreamgirls.
Follow the link below to view a clip from the 1978 film adaptation. In this scene, Diana Ross and Lena Horne sing "He's the Wiz." https://www.youtube.com/watch?v=wVmMSNzLCIQ
Additionally, this second clip is from the 2015 The Wiz: Live! and features Amber Riley singing "He's the Wizard." https://www.youtube.com/watch?v=ZEBOe6vmync
You can also read about the fascinating and complex costumes used for this production in an excellent post by the National Museum of African American History and Culture: https://nmaahc.si.edu/explore/stories/collection/ease-down-road