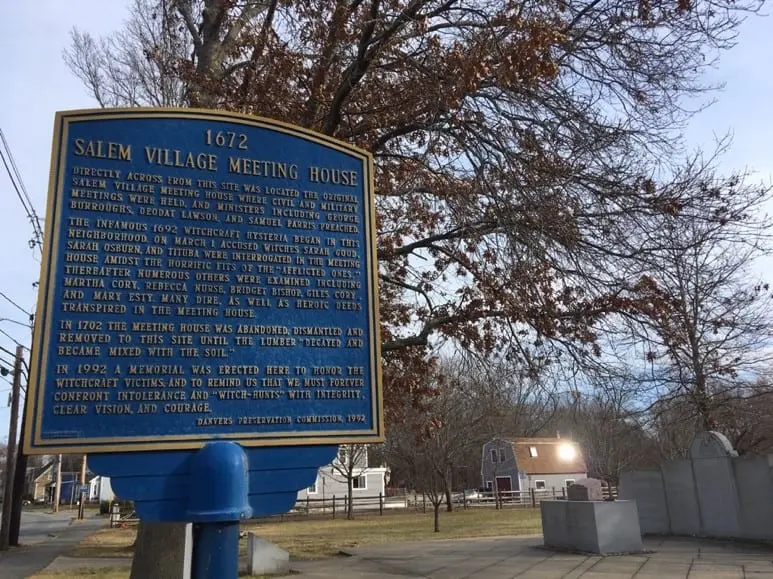 Near the corner of Hobart and Forest Streets, across from the Danvers Witchcraft Victims' Memorial, is the site of the first meetinghouse of Salem Village. Ministers who preached here were James Bayley (1672-79); George Burroughs (1680-83); Deodat Lawson (1684-88); Samuel Parris (1689-1697); and Joseph Green (1698-1701).
Salem Village's first meetinghouse was built in 1672 on an acre of land given by Joseph Hutchinson. In his 1867 work Salem Witchcraft, Charles Upham described the structure as, "'Thirty-four feet in length, twenty-eight feet broad, and sixteen feet between joints.' Two end galleries were added, and a 'canopy' placed over the pulpit." The church in Salem Town had recently built a new meetinghouse of their own. They donated their old pulpit and deacons' seats to be installed in the Salem Village meetinghouse.
The first Salem Village meetinghouse was the scene of numerous examinations of accused witches. The first three to be accused, Tituba, Sarah Osborne (alternate spellings Osborn, Osbourne, Osburn), and Sarah Good were examined here on March 1.  The initial examinations were originally scheduled to take place at Ingersoll's ordinary down the road, but so many people turned up to witness the initial examinations they had to relocate the proceedings to the larger meetinghouse. Also examined here were Rebecca Nurse, Dorothy Good, Martha and Giles Corey, Bridget Bishop, and Mary Easty (alternate spelling Esty).