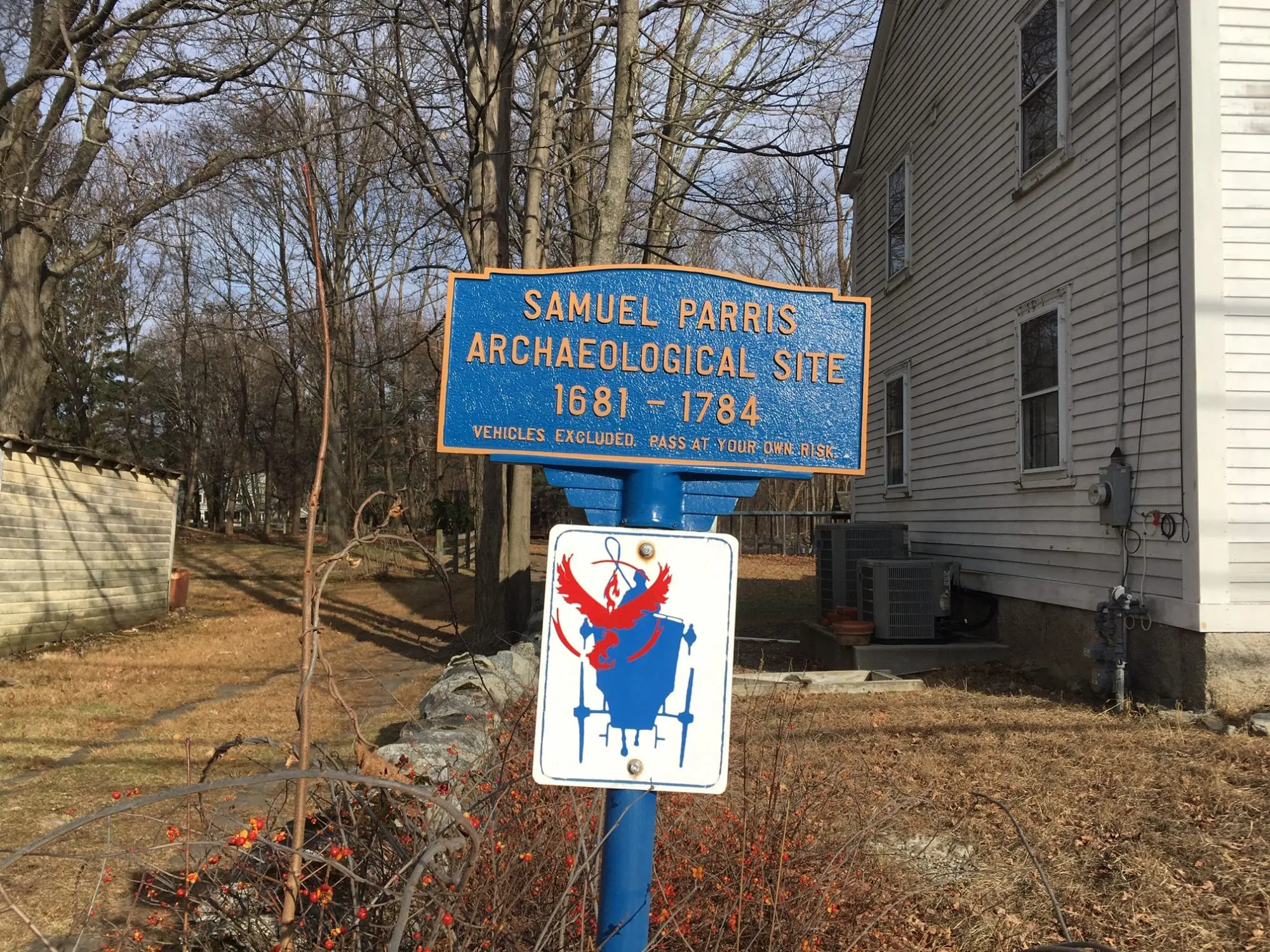 Down a path between 67 and 69 Centre Street is the site of the Salem Village parsonage, where the spark that ignited the witch hysteria of 1692 was struck.
Joseph Houlton gave five and a half acres of land in the center of the village for the use of the minister, on which the parsonage was built in 1681. A series of ministers resided there, including George Burroughs (1681-83), Deodat Lawson (1684-88), Samuel Parris (1689-96), Joseph Green (1698-1715), Peter Clark (1717-68), and Benjamin Wadsworth (1772-1784). The original structure was razed in 1784, though Wadsworth remained the First Church minister until 1826.
The parsonage foundation was uncovered in 1970 by local Danvers historian Richard Trask and a team of archeologists, and the site was named a Historic Landmark in 1988. Today it is owned by the Town of Danvers.
The parsonage was larger than the foundation reveals, since there was not a stone cellar underneath the entire structure. According to historian Emerson Baker, a large part of the house rested on wooden beams directly on the ground, which meant it was not a building that would last long. Historian Marilynne Roach describes the parsonage as a "forty-two by twenty-foot house [which] sat well back from the Andover road, facing south to catch the winter sun. It had four main rooms, four hearths, two to a floor, plus garret space and a stone-walled cellar under the parlor (sitting room and master bedroom), with steps rising into the hall (the main room)."
It was here that Samuel Parris and his wife Elizabeth lived in 1692, with their three children, son Thomas, aged 10, daughter Elizabeth, known as Betty, aged 9, and 5-year-old daughter Susannah. Also in the household was Parris's 11-year-old orphaned niece Abigail Williams and the slaves Tituba and John Indian. In mid-January of 1692, Betty started to act strangely. Her cousin soon joined her in odd fits, visions, and accusations. One can only imagine the fear and tension that filled the house as doctors, ministers, and friends failed to cure the worsening symptoms.
Additional note: According to Danvers historian Richard Trask, it was Roland Robbins to whom he turned for help in finding the foundation of the parsonage in 1970. Archeologist, author, and historian Robbins is noted for finding the site of Henry David Thoreau's cabin at Walden Pond (in 1945), the Saugus Iron Works (in 1948), the John and Priscilla Alden family sites (in 1960), and Thomas Jefferson's birthplace, in addition to the Salem Village parsonage and other significant sites.