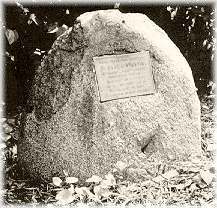 Susannah (alternate spelling Susanna) Martin's house stood near this site in 1692. On April 30 of that year, Thomas Putnam and Jonathan Walcott swore a complaint against Goody Martin. Martin was accused by Mary Walcott, Abigail Williams, Ann Putnam Jr., and Mercy Lewis. Amesbury constable Orlando Bagley escorted Goody Martin the 20 miles to Salem Village, where she was examined on May 2, and subsequently jailed in Boston. On May 31, she was transported from Boston Jail to Salem Town to await her trial. She was tried and convicted on June 29 and sentenced to death. She was hanged on July 19 on Proctor's Ledge at Gallows Hill.
Cotton Mather, who observed her trial, called Susannah Martin one of the most "impudent, Scurrilous, wicked creatures in the world." The marker, however, states that she was an honest, hard-working Christian woman, and was "a Martyr of Superstition."
How did a widow of approximately 70 who lived some 20 miles from Salem Village get caught up in the witchcraft accusations? By all reports, her reputation made her a prime target. Long suspected of practicing witchcraft, and a victim of decades of gossip, she was no stranger to altercations with her neighbors.